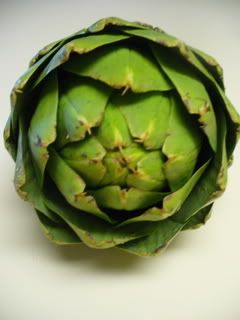 Image provided for Britta
What's the deal with artichokes? Did you ever wonder who figured out they were edible? Just imagine...
"Hey! Look at this poky, spiky thing with weird leaves... let's cook it!" Cooks for a long time...
"Let's chew on these leaves and see how they taste." Spits leaves out.
"That's disgusting... maybe if we suck them..." Sucks on them and discovers "meaty" leaves. Experiments with best method for meat removal...
"Try scraping it with your teeth!" "Ya! Perfect! Ah... that meaty goodness!" Proceeds to scrape all leaves clean. Discovers a hairy center.
"I just gotta try that!!!" Tests out the hair. Disgusted.
"Get that hair off of there!" Hair removed. Discovers the scrumptiousness hidden under all that fuzz... the heart!
"AWWWW....THIS IS
AWESOME!!!
We gotta tell somebody about this!"
Ya. I wonder that every time I eat one.