Valentine's Day has come again... and gone!
Speaking of gone... Gone are the days of making Valentine's Boxes? It's looking more and more that way. My kids were so excited to make them and then we got letters from the teachers letting us know that we didn't have to make them. Ella's kindergarten class made "envelopes". While they were cute, they could not match the Barbie doll box I was planning to make her. It was going to be great! Imagine... a Barbie doll atop a large dress with a slit in the side for Valentine delivery! I was even gong to make it out of fabric over the "box" material so it really looked like a dress.
(Luckily, Ella was oblivious to these grandiose plans, so her disappointment at making an envelope was not so severe.) Mac was excited to make a robot again. But, alas, he joined with the rest of his class in decorating BROWN PAPER SACKS. Talk about a let down.
Fortunately, we did get to make a box for Mac last year... we made a cool robot that was covered in aluminum foil. It was great! He wanted to do it again, but the darned education system has to go and regulate every last detail of our lives!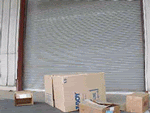 (sorry... I'll not get on THAT soapbox! But I couldn't resist putting that little clip on! I discovered Photobucket, if you can't tell...)
Soo..... I never do anything for Valentine's Day. Dustin and I always thought of it as an excuse to go out for dinner, but we got tired of fighting the crowds, not to mention we just don't want to pay a babysitter and all that good stuff. So, this year... I made an effort... a family affair. I had some success.
Notice the pink table cloth, white plates, pink napkins, and little Valentine candy boxes on the table? Yes, it was a big step for Clancy. I even made RED guava raspberry drink (not shown). Now for the big deal......
No, the big deal is not my children sitting at the dinner table in their undies....
OK, I know they are in their undies... I just don't know why. Something about the evening compels my children to run around in their undies! Now, look in the CENTER of the table!!!
Yes. That, my friends, is my very first heart shaped pizza... shaped by hand, by me... no pans or anything! I'm so proud! It was not bad tasting, either! That one (above) is the one the kids picked the toppings for. Here, (below) is the grown-up pizza! Not so pretty as the other as it's not on a stone or sitting on a lovely pink tablecloth. Alas, still a nice 2nd attempt at my own hand molded heart-shaped Valentine Pizza...
I am pleased with my attempts to be "Valentiney". It was a fun, busy day!
I have to throw in this last picture of my baby Valentine... and yes, he, too, is in his underwear!